Our Chocolate Neapolitans are our most cost effective high impact product that we can offer
Chocolate Neapolitan wrappers can be printed with your logo, details and design and any special messaging you would like to add to the front and reverse of the sleeve with a full colour digital print.
You can have any message printed on the wrapper, such as:
* Your business, organisation or even your customer's business name
* Your contact information (address, telephone, email)
* Your website addresses and even QR codes for the recipient to scan to a page on your website
* Social Media icons (why not link them up with a QR code as well?!)
* Any special discounts and or monthly offer you may want to promote
* Business announcements (new products, services, menus)
* Personalised congratulations, messaging for special events. (i.e. wedding, engagement, baptism, christenings, Eid)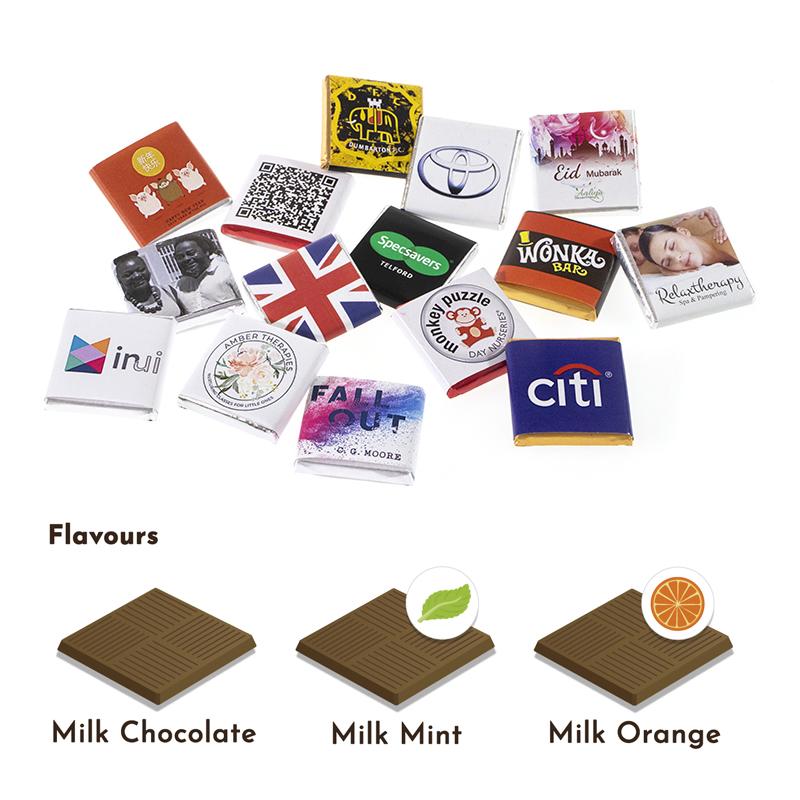 Our custom printed Chocolate Neapolitans make a tasty impression, and will help you attract new customers at your next trade show, event or festival.
Why not use them to say a "Thank you" to your target market, use them to build customer loyalty or even market them to your client database to keep your current customers coming back for more.
Or why not promote your business, organisation or brand, product or event with a postal campaign or include with any general mail outs that you send. A chocolate sent with a letter to the accounts department?! - Why not... these are a great way to keep your customer sweet!
The Chocolate Neapolitan wrappers can be printed with any printed design you need – why not create a call to action or high impact message and then add your logo(s), full colour graphic(s), social media and/or QR code.
Our Neapolitan chocolates are also a perfect giveaway for seasonal events including Christmas, New Year, Chinese New Year, Valentine's Day, St Patrick's Day, Mother's Day, Easter, Father's Day, Eid Mubarak, Halloween.
Personalised Chocolate Neapolitans are ideal for marketing, gifting and "thanking" the recipient... so take a look at the ways in which these products can be used:
* With a take out drink out or in take-away bags
* Place into a bowl on a reception desks and in all waiting areas
* Combine with a coffee, tea or other liquid refreshment
* Promote your company at trade shows, corporate events, open events and exhibitions
* Send with your next bills/receipts mail out
* Why not use them to advertise and celebrate upcoming special events, weddings, birthdays, anniversaries
* Our Chocolate Neapolitans are a must have for meeting tables and at conferences
* To promote a new product, service or restaurant menu launches
* Ideal to be used at large gatherings and used as wedding favours, or for guests staying at your hotel, b&b or other overnight accommodation.
Our Chocolate Neapolitans are very versatile to meet your marketing requirements and a truly cost effective high impact promotional product